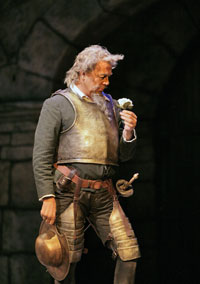 Reviews. Sweet glorious reviews. We have a few in from Saturday night and they all have a theme in common.
Don Quixote
is a special night out.
I'd been saying that all along but it is finally nice to have that verified by people who are smarter than I am.
I tend to like reviews, good and bad, because I have a bunch of very smart critics who manage to teach me a thing or two each opera. I have my opinions watching each opera and sometimes it is nice to see that I'm noticing things that people who are paid to notice things are noticing. But really, let's be honest; I really only like the good ones.
And boy these are good:
"What do you get when you acquire the services of Italian basso Ferruccio Furlanetto to perform [the] opera's title role here in San Diego?",
asks David Gregson of SanDiego.com
."Eyes full of tears and a heart that feels a little floppy until you work off your vapors in a standing, cheering ovation."
Marcus Overton of the San Diego Union Tribune
said "This remarkable production is energized by two elements that – brought together with integrity and taste – guarantee success: an individual vision articulated with detailed simplicity, and a collaborative approach among an artistic team." They called it a "Superb Quixote in Any Language."
And there are more.
You can read them all here
.
It is a little late, but the
Don Quixote
Artist Roundtable is on YouTube now. I've placed it below.
And finally, that picture up above, simply my favorite of the thousands that were taken. Makes you wonder what was going through his mind at that moment.
-- Edward